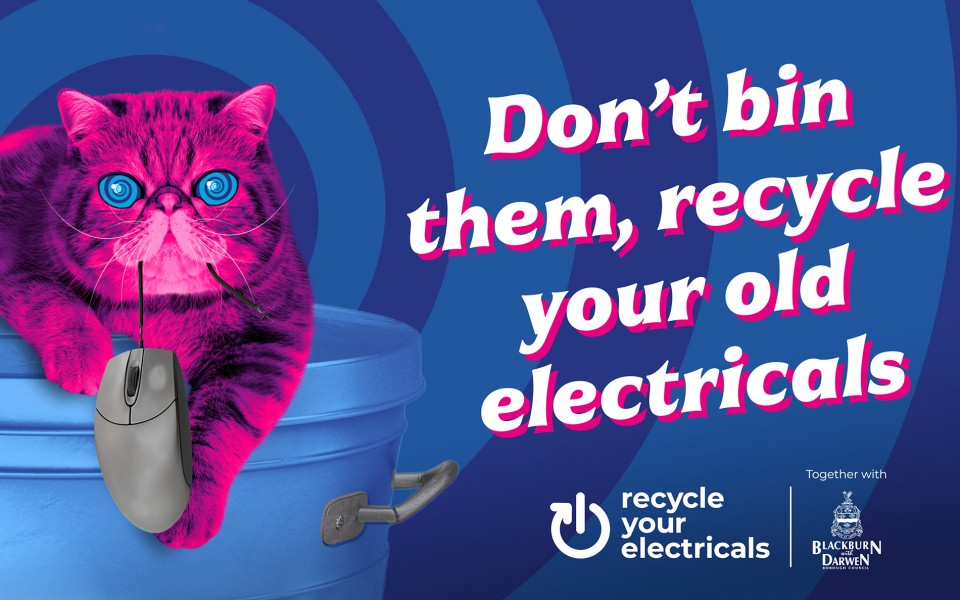 Recycle Your Electricals is launching 'HypnoCat', a pink fluffy cat on a mission to hypnotise Blackburn with Darwen residents into recycling their small old electricals. The campaign has been launched as small old electricals are one of the fastest growing waste streams in the UK.  Blackburn with Darwen Council is one of a growing number of over 80 local authorities across the UK that are taking part in the campaign.
Around 155,000 tonnes of waste electricals are thrown away in the UK each year, and UK householders are thought to be hoarding 527 million small electrical items.  It's estimated that hidden within Blackburn with Darwen homes there are enough cables to stretch all the way along the Leeds and Liverpool Canal and back!
'HypnoCat' the fun character has been designed to hypnotise the nation into recycling their electricals. He will be issuing a series of rallying calls to local people across radio and social media including 'Humans of Blackburn with Darwen, don't bin them, recycle your electricals'.
Scott Butler, Material Focus, Executive Director, said:
Small old electricals are one of the fastest growing waste streams, and we are throwing away valuable materials that are lost forever.  These small, old, unwanted electricals contain 75% of materials that can be recycled or reused such as precious materials like gold, silver and copper.  HypnoCat our messenger for the campaign will be providing step-by-step information on how to reuse and recycle old electricals. We want everyone to know that all old electricals – that's everything with a plug, battery or cable – can be recycled.  We are delighted to be working with Blackburn with Darwen Council and are calling on residents to stop throwing away their old electricals, and instead put them in a bag ready to be recycled.
Councillor Jim Smith, Executive Member for Environment at Blackburn with Darwen Council, said:
Blackburn with Darwen Council is delighted to be participating in the Recycle Your Electricals campaign.  Our area already provides recycling facilities for electricals through kerbside recycling collections for small electricals, as well as recycling large and small electrical items at our Household Waste Recycling Centres in Blackburn and Darwen.  We have joined this campaign to make sure that we further promote the importance of recycling electricals to more of our residents.
The Recycle Your Electricals Campaign is making recycling small old electricals easier than ever before by providing an information hub for the UK on how to recycle electricals, and a postcode locator with details of over 300 recycling, repair and reuse points across the UK.
In Blackburn with Darwen you can leave small electrical items in a carrier bag next to your grey or blue recycling bins on collection day. Visit the Council's Recycle BwD website for more information.
Alternatively, you can deposit small and large electrical appliances in the electrical skips at the Household Waste Recycling Centres in Blackburn or Darwen.
For any electrical items in working order, please offer these to friends, family or charity shops.
You can get involved with the campaign on social media, alongside celebrities including Konnie Huq, Andrea McLean and Zandra Rhodes, by sharing pictures, videos and stories of the electricals that you've collected in a bag prior to recycling them.  Use the hashtag #RecycleYourElectricals or tag us on Facebook @RecycleYourElectricals @BlackburnDarwenCouncil, Twitter @RecycleElectric @BlackburnDarwen and Instagram @RecycleYourElectricals_ @BwDCouncil.