Blackburn Edible is a spin off group from the sister group, Keep Blackburn Tidy.
Tracey Padia who started the group said 'By engaging people who are already keen gardeners and growers, be it in an allotment, garden or pots in the yard, we felt we could reach out to another group of kind volunteers. Our aims are big! To transform neglected green spaces of our town and provide edible food sources for our residents'
The two groups, Blackburn Edible & Keep Blackburn Tidy come together brilliantly through the alley projects. Gifted plants and edibles, often in pots & containers that have been litter pick finds, are giving an instant lift to alley projects.
Here's an example of how some spare guttering has been transformed to be used as a planter for some lettuce.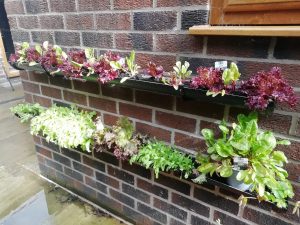 The sharing, supporting and pay it forward ethos is having a positive impact throughout Blackburn with Darwen. They are asking the gardening community to sow a little extra, grow a little extra, swap seeds & plants, to support these community projects and help spread the positive ripples of change.
Sally Booth, the council's Education Officer said 'This community group is a great way to start your journey on growing your own produce. No question is too silly to ask! It is also a great way to swap items you may have usually thrown away. Everything is given a new purpose.'
Find them on Facebook Keep Blackburn Tidy, Blackburn Edible.
Or Twitter @Blackburntidy @EdibleBlackburn