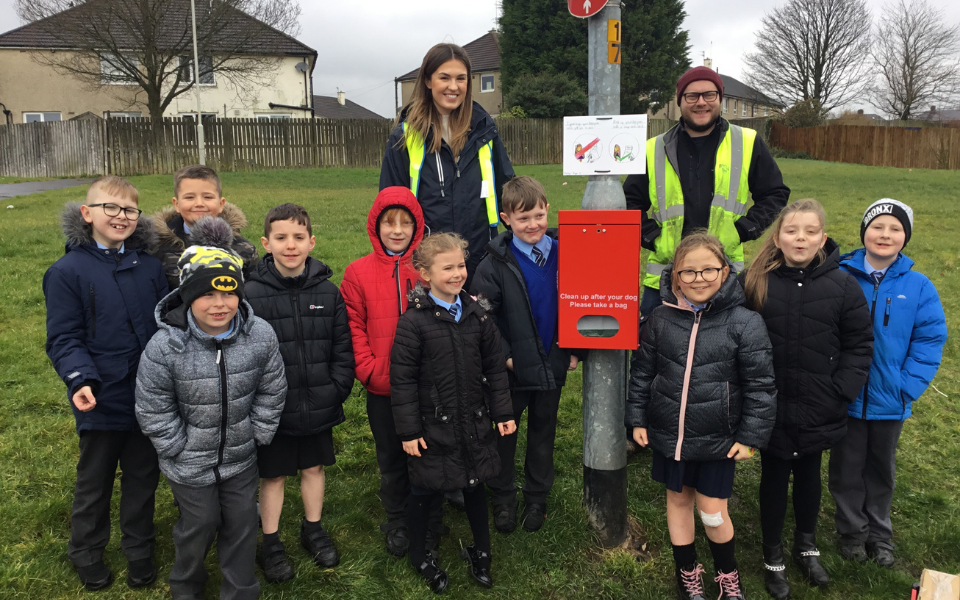 Our Lady of Perpetual Succour Primary School in Blackburn have worked with the Council to install a dog-poo bag dispenser near their school.
The Year 3 class went on a walk around their local area and were disgusted by how much dog poo there was! This prompted them to contact the Council to see if anything could be done to tackle the dog-poo and fly-tipping within their area.
A few weeks ago our Environmental Education Officer, Sally Booth, met with the pupils to install a dog-poo bag dispenser and discuss the importance of correctly disposing of your waste. The children were very enthusiastic about making a difference to their local area.
The class also put up their own designed posters around the area to let local residents know of the new dispenser and reminding them to clean up after their pooches.
I really liked improving our estate. I live on the estate and I want it to be clean. Since we have put the dog-poo bag dispenser up, there has been less dog poo on the paths.  I am proud of what we did.
Danielle Wearden, Year-3 class teacher, said:
It has been really lovely to see the children take ownership of a project especially as it effects their local area. As a school we aim to produce citizens of the future who will make a positive difference to their world. This is the start of that journey.
Alongside this, Sally introduced the pupils to our super Recycling Heroes and brand-new Litter Patrol.
You can pay them a visit too on our brand new education and activity area – it's bursting with fun things to do! https://bit.ly/3wsTAjW
The Year 3 Class are planning their own litter patrol very soon and to top up the poo bags in the dispenser.
As you walk around the Highercroft area, please keep an eye out for the pupils' signs and help yourself to a poo bag if you're walking your dog, ensuring the area stays clean and tidy.
Well done Year 3 for making a difference to your local area and our borough!
Cllr Jim Smith, Executive Member for Environment, said:
"It's so inspiring to see the younger generation of our borough actively caring about their environment and setting out to make a real difference.
"If our children can see that leaving litter and dog muck on the floor is wrong, then surely our adults can too.
"Tackling dog-poo and fly-tipping is a key priority for the Council this coming year and something we are absolutely determined to crack down on, with £1.5m committed to Environment and Highways in the budget that includes new patrols focused on preventing dog fouling.
"A huge well done and thank you from myself to the Year 3 class and teachers at Our Lady's of Perpetual Succour."