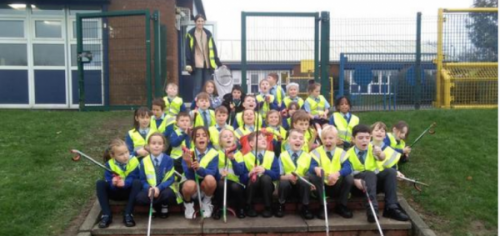 In Year 4 at Our ladys of Perpetual Succour, they have been learning all about the Great Plague and how they can look after our environment. They had a visit from our Environmental Education Officer, Sally Booth, who spoke to the class about the importance of Reduce, Reuse and Recycle. Sally also spoke to the class about the different bins are for at home and where all the recycling and rubbish ends up.
We enjoyed our talk by a special visitor – Miss Sally Booth, the Environment Education Officer. We asked lots of questions about landfills, amount of rubbish in BWD, where it goes and the recycling centres in our local area.
We learnt a lot about caring for our environment and what we could do to help. A big thank you to Miss Booth for a fantastic, fun and educational afternoon!
We also went litter picking in the school and church grounds. Watch this space for our final outcome – persuasive posters to help our environment! – Year 4, OLPS
If you're interested in borrowing litter picking equipment at your school and helping Captain Muck and Captain Litter look after where you live, get in touch here