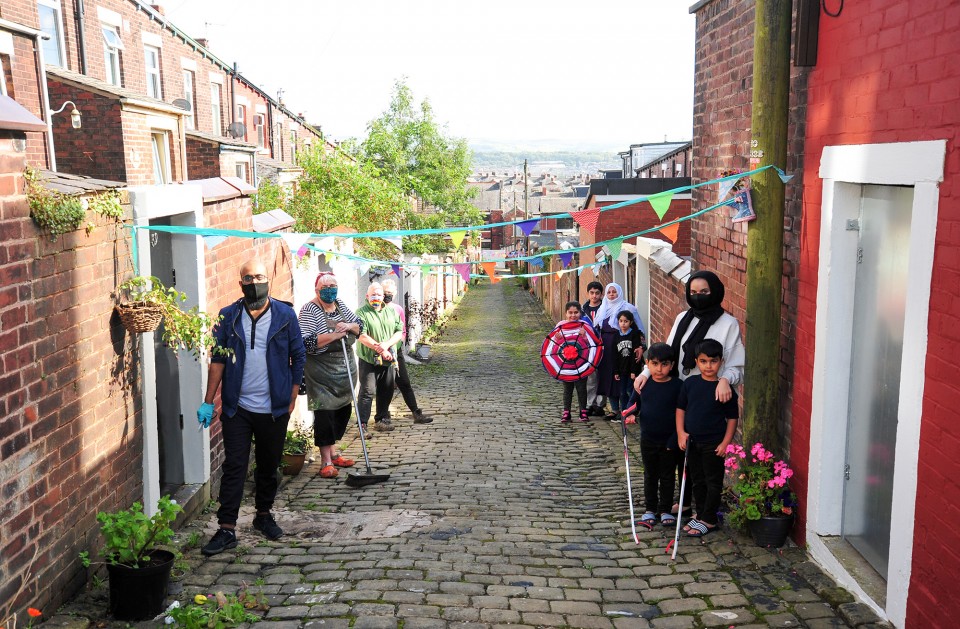 Blackburn with Darwen has always been bursting with community spirit and we've seen that shine through brighter than ever since the start of the Coronavirus pandemic.
We want to thank our communities for really pulling together to make a difference when we know many of our residents have been struggling.
Here, resident Cath Ford has written about her experience of starting an alleyway project where she lives in Blackburn.
Cath said: "The back alley behind Azalea Road, Woodbine Road and St Silas' Road in Blackburn has suffered, like other alleys, from littering, fly tipping and general lack of care for years. Everyone who lived locally was unhappy with the state of the alley, but we felt helpless to do anything about it. Then the volunteers from Keep Blackburn Tidy started to appear, putting in time and energy to litter picking and dealing with grot spots, as they call them, and slowly things started to improve. One Sunday evening in early July 2020, as we were just emerging from lockdown, one of our local councillors, Councillor Jackie Floyd, shared a photo from Liverpool where the neighbours had spent time together cleaning and improving their alley during lockdown and creating a space where neighbours could meet, connect and build their community.
"At that point our alley was looking in pretty good condition and I said something to the effect of 'Let's get started, Saturday looks dry, who's in?' We designed and printed a flyer that went out to each house backing on to the alley and on that Saturday afternoon a small group of us, with support from Jackie and another member of Keep Blackburn Tidy, had our first big clean up. Considering it wasn't too much of a mess at the time, we created a huge pile of red bags. Crown Paints donated some masonry paint which meant we have been able to freshen up the walls with very little expense and donations of plants kept appearing from people who were inspired and enthused by what we were doing.
"Two months on, we have a community WhatsApp group where we share updates and ideas and just keep in touch with each other, and we have recently held our third monthly alley afternoon where we get as many people out as possible doing some weeding, cleaning, painting and planting, but most of the work happens in between those events when people do things at their own pace.
"I feel completely different about where I live now. I have met and made friends with people I never would have met without the project and I feel like we are making a difference together in our own, very local community. Probably about 20% of people living here are actively involved at the moment, but that activity has had an impact on the other 80% and we have had no fly tipping in two months since our first meeting and everyone brings their bin back into the yard on the day of collection. We have plans for winter lights and are planting bulbs for spring, with the ambition of having community events in the alley when we are able to. Even though we have been socially distancing and continue to do so, lots of us feel closer to each other than we ever have.
"I would encourage everyone to do this. By taking positive action together as a community we are changing our lives whilst improving our environment."
Local councillor and Keep Blackburn Tidy volunteer, Cllr Jackie Floyd, added: "A big well done to all of the residents involved – what a brilliant idea!  Wherever anyone shows a glimmer of wanting to do something like this themselves, we will give them support to get their project off the ground.  This is much wider than just paint and plants, it goes a lot deeper than that.  It's about connecting people and building up community resilience.  Every single alley in Blackburn with Darwen could achieve something like this, using their own resources and with help from their own communities and without spending much money. Now the kids are back at school, or if you're shielding at home, why not use the extra time to have a tidy up, make bunting, clean cobbles, look for bargain plants, dig out some spare paint in the shed and get out there and start to make a difference?  A lot of the problems with rubbish in back alleys stems from people not understanding what goes in what bin, so please take time to read the guidance on the Council's website and make sure you're doing it right.  There's a translate button on our website where you can choose to display the information in different languages. If you need help with your bins or need extra bins because your household has 4 people or more, get in touch with us through the website or on 01254 585291.  There are tip slots available to book online and tip opening hours have been extended.  If there are people in your community who need help to understand their bins give them a hand.  We all need to work together to get it right."